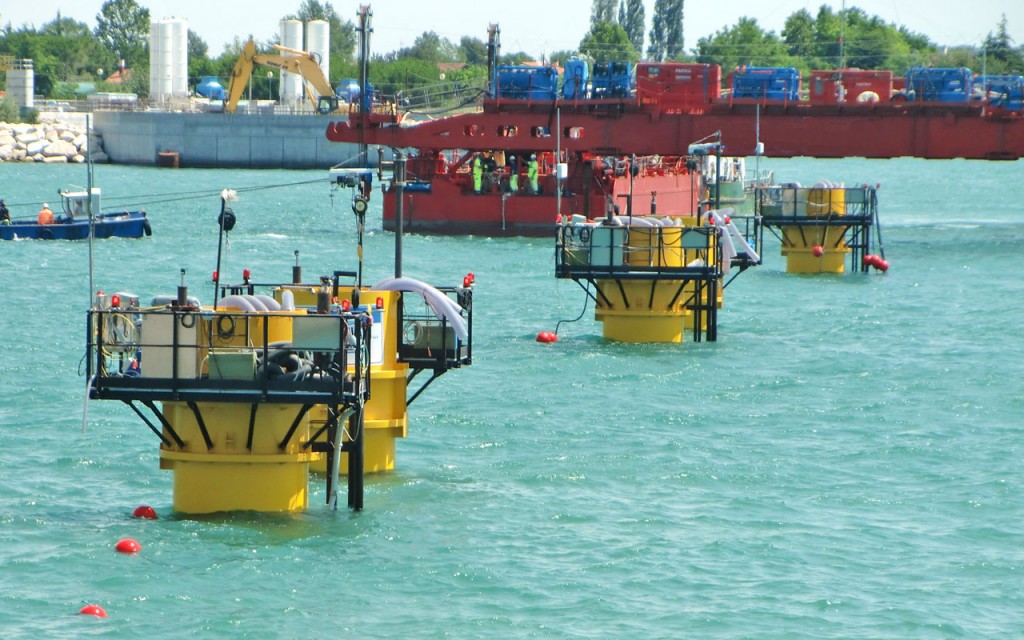 Design and implementation of digital radio system at Mose Venezia

General
The designed system is based on two repeaters for each "tank".  One dedicated to the radio coverage inside the tank  and the other one to connect the tank with all the other tanks and with the external environment in which supervisory and emergency teams operate.
Each UHF or VHF frequencies can be used, it is just a regulation issue and not technologic matter. In any case two pairs of frequencies are needed.
One pair will be dedicated to the distribution of the radio signal inside each tank. The related repeater may be suitably programmed to limit interferences from/to the outside environment.
The designed system allows communications in half duplex way  among all wireless users, (eg.: two frequencies but with Talk-Listen operation), wherever they are within the coverage area including obviously the ones inside the tanks.
"Tank" environment
Indoor coverage is ensured by the presence of radiating cable which will be connected (with appropriate splitter and filter) to the repeater assigned to the inner cover.
It will be possible to expand the coverage outside of the tunnels by further radiating cable or antennas, if deemed subsequently necessary.
Therefore the communications between handsets will occur through this repeater, and will be always high quality.
The connection to the outside (with other tanks and external environment in general) it is ensured by a second apparatus which convoys towards a central repeater (to be installed separately from the six tanks) all the tank communications.
External environment

The coverage area is ensured by the Master repeater, for which have to be found a suitable position.
The repeater brodcastes on the whole area communications from-to tanks and external environment, ensuring in this way the possibility of keeping all users connected to the same communication.
Handheld radios

The handheld must be programmed with two channels, one for use inside the tanks, the other one in outdoor areas.
The user will have  to select manually the chosen channel.
Operativeness
The system enables the spread of communications both inside and outside of the tanks.
Therefore anyone starting a communication from any point of the system  (internal or external tanks) can be heard by all the other users who, in turn, will interact in communication.
It is necessary that each user selects correctly the working channel based on its location (internal or external to the tank).
EQUIPMENT USED